Grey Board Grooving Machine for Luxury Box
Delivery term:The date of payment from buyers deliver within days
Price:

Negotiable

minimum:

Total supply:

Delivery term:

The date of payment from buyers deliver within days

seat:

Zhejiang

Validity to:

Long-term effective

Last update:

2017-08-15 20:20

Browse the number:

151
Send an inquiries
+
Zhejiang Saili Machinery Co.,Ltd
Contactaixin:

Contactaixin:

saili1(Mr.)

Email:

telephone:

phone:

Area:

Zhejiang

Address:

Industrial Zone, Aojiang Town, Pingyang County, Wenzhou City, Zhejiang
+
Function:
grooving machine is a very useful machine for notching v grooves on cardboard ,kappa board, rigid board,grey board , MDF board etc, help to make beautiful cardboard folding before box forming.
Application:
Suitable for High quality package, Gift Box, Jewelry boxes, Watch packaging, mobile phone boxes, wine boxes, Storage box, shirt and shoes boxes, biscuits and cakes boxes, note book cover, book shape boxes, hardcover, file folders, etc.
Parameter  
Product name

Automatic grooving machine

Model

KLG-1300

Material width

100-1050mm

Material Length

150-650mm

Thickness

600gsm-3.0mm

Best accuracy

±0.07mm

Speed

30-45M/Min   

70-120PCS/Min (work piece size 600*600mm)


Grooving degree

80°-140° adjustable

Groover quantity

12

Power

2.2KW

Machine size

2550*1750*1400mm

Certificate

CE

Weight

1750KGS

 

Accessory

1 EA grinder of knife

1 tool box:1set Allen wrench, straight screwdriver of 4 inch, open spanner, adjustable wrench, grater, instruction manual of inverter

20 PCS blades of V shape
Why choose us ?
1. Knife angle: 80-140 degree, high quality, electric component are branded. We specialize in grooving machine, providing best grooving solution, and we use the best material for clients.
Our knife can be used for 15,000-20,000 times groove once sharped.
A good knife makes a good grooving effect. Knife is important in the grooving machine operation.
2. The Knife Grinder will be shipped together with the machine. Easy to operate, saving time.
3. The Board: suitable for board (600GSM-3.0mm thickness). MDF, chipboard, gray board, cardboard or paper board ,etc.
Horizontal board size :100-1050mm 
Vertical cardboard size: 150-650mm
4.Two loading section for feeding board by automatic, to improve work speed.
4. The paper board will not be bend, because use conveyer belt feeding board and use press wheel together with belt to keep the board straight, board grooving is fulfilled on the drum. Easy for collecting finished board .
5.The core part of grooving machine is drum ,it is made of seamless steel, polished, plated, aging treatment, precipitation, so it is not only very round and the beating accuracy is up to 0.03mm,but also in high durability, long life.
5.Bidirectional conveyer belt for collecting and transporting finished board .
6.Convenient adjust belts and cutting knives size.
7.We're the first original designer of drum type grooving machine, invention patent No 200710157015.9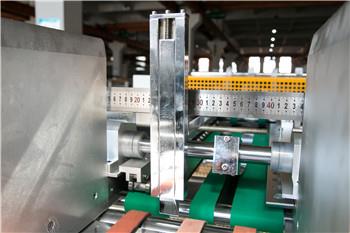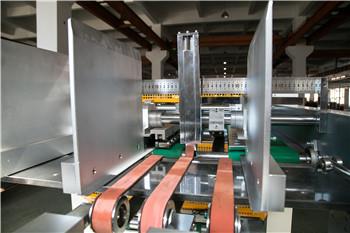 http://www.sailimachine.com/